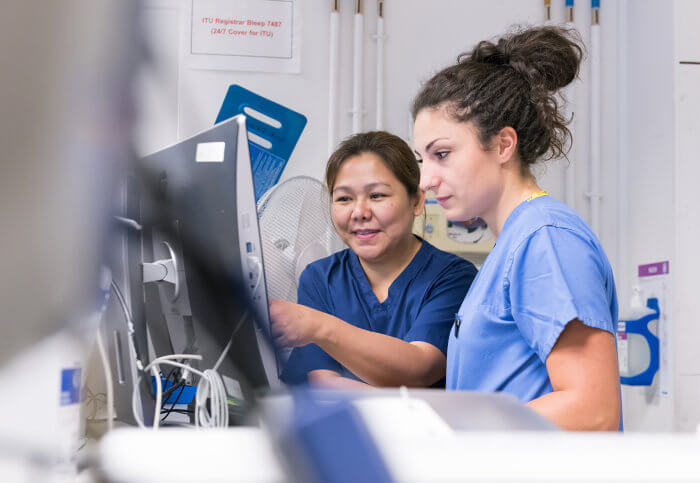 Imperial's Clinical Analytics, Research and Evaluation (iCARE) project started as a proof of concept high performance analytics environment, funded by NIHR Imperial BRC, in Autumn 2019.
In collaboration with UKCloud and Bluemetrix, the NIHR Imperial BRC have set up a high performance, cloud-based, informatics solution that will allow NHS Trust staff to access de-identified data with enhanced tooling, compute power and security. This system will, for the first time, provide the ability to manage access control to specific data resources allowing full audit of every action that staff take when using Trust data, with audit data accessible in real-time to the Imperial College Healthcare NHS Trust (ICHNT) Data Protection Office. UKCloud provide the cloud infrastructure as a service, Bluemetrix manage software and core Hadoop settings and ICHNT staff manage the data and access controls within the platform.
The iCARE high performance informatics solution was developed to support:
Clinical analytics and evaluation activities within the Trust to provide direct care benefits by supporting agile informatics for Trust quality improvement flow programmes and enable analysis on linked data covering patient pathways.
Approved access to de-identified data for researchers and external analysts, enhancing our ability to learn from and improve the way care is delivered in the future.
Changes in response to COVID-19
In February/March 2020 the evaluation of the iCARE solution was paused due to rapid changes taking place as a response to coronavirus in both the Trust and College. However, it was realised that with additional support, software and hardware developments the platform could, in partnership with North West London's Whole Systems Integrated Care, provide a sector-wide solution to allow fast processing of data, including new data feeds, to help to understand COVID 19 and North West London's clinical, operational and research needs.
UKCloud, Bluemetrix, WSIC and ICHNT have rapidly worked together to enhance and improve the high-performance environment to enable the provision of both:
A direct care COVID 19 data analytics platform that links huge volumes of data from WSIC in near real-time and increasing data flows from other providers to enable a complete picture of COVID19 related healthcare for provision to the sectors gold command, healthcare providers and healthcare staff on the front line.
A research platform where de-identified data access can be provided securely and safely to approved researchers to analyse data related to the disease helping us understand and improve the healthcare response to the pandemic in both Northwest London and nationally through the work carried out in the NIHR Health Informatics Collaborative (HIC).
Mr Erik Mayer, Clinical Senior Lecturer from the Surgery & Technology BRC Theme, and Transformation Chief Clinical Information Officer (ICHNT), commended the effort: "I am very grateful for the huge collaborative effort in making this a reality during these challenging times. This provides a further exciting opportunity to use data-driven insights into healthcare delivery for the benefit of the North West London population."
Key individuals behind iCARE:
Erik Mayer
Transformation Chief Clinical Information Officer (Analytics & Informatics), Consultant Surgeon
Ben Glampson
Research Informatics Programme Manager, NIHR HIC Imperial Programme Manager, Health Informatician
Abdulrahim Mulla
Deputy Data Warehouse Manager Research
Luca Mercuri
Deputy Data Warehouse Manager Research
Dimitri Papadimitriou
Deputy Research Informatics Programme Manager
Sridhar Reddy
Senior SQL Developer
Algirdas (Anthony) Galdikas
Senior SQL Developer
Jashvin Kerai
Data Warehouse Manager IBI
Jingxian You
Research Assistant (Clinical Analytics & Data Science)
Lan Wang
Research Assistant (Clinical Analytics & Data Science)
Sneha Jha
Postgraduate Researcher (Clinical Analytics & Data Science)