AwardTraining NIHR Clinical Doctoral Research Fellowship awards for Imperial healthcare professionals
The NIHR Imperial BRC and Imperial Health Charity (IHC) jointly fund a number of pre-doctoral, 12-month fellowships which support prelinminary research undertaken by non-medical clinical staff within the NHS Trust, to explore better ways of delivering immediate and effective patient care.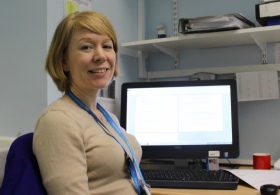 We are delighted to announce that one of last year's award winners, Gemma Clunie, has been successful in securing an NIHR Clinical Doctoral Research Fellowship (CDRF) to pursue her studies into a rare airway disorder. Gemma is a Clinical Specialist Speech & Language Therapist, and will continue the work she started during her IHC-BRC fellowship, investigating swallowing and voice difficulties in patients with airway obstruction conditions, ultimately developing personalised treatments for this group of patients.
NIHR CDRFs are aimed at registered non-medical healthcare professionals who have at least 1 year's experience of clinical practice and sufficient research experience to undertake a PhD, whilst continuing to develop their clinical skills.
Reflecting on the impact of her IHC-BRC fellowship, Gemma said: "The IHC-BRC fellowship is the perfect opportunity to develop relevant research skills, vital to winning one of the NIHR CDRFs. It also provided protected time to develop a competitive application to the NIHR CDRF which requires a significant amount of preparation. This could be difficult to achieve alongside a busy clinical workload."
Another NIHR CDRF award winner this year was Rebecca Smith, a physiotherapist at Imperial, whose research is focussed on improving assessment and treatment of dizziness following a head injury. The NIHR Imperial BRC is committed to supporting and providing training opportunities to a wider network of clinical staff, which are centrally managed though Imperial's Clinical Academic Training Office (CATO).