Who should acknowledge NIHR Imperial BRC?
ALL research staff who carry out ANY patient/healthy volunteer clinical and/or experimental medicine research within either Imperial College (all Faculties) or Imperial College Healthcare NHS Trust. Further details can be found in the leaflet below.
Why should I acknowledge NIHR Imperial BRC?
In addition to directly (co-)funding projects and staff, NIHR Imperial BRC supports essential clinical research infrastructure at Imperial, including technology platforms (e.g. imaging, genomics, cell sorting), tissue banking, key NHS support services (pharmacy, labs, radiology), research nurses, administrators, clinical trials infrastructure and governance support. Therefore if your research is translational or clinical in any way, it is supported – either directly or indirectly – by the BRC and MUST acknowledge this is all your peer-reviewed publications. Furthermore, acknowledgement of NIHR funding is an important metric used by the Department of Health & Social Care to justify future budgets and is particularly important and visible during the quinquennial BRC re-application process. These metrics are therefore essential for the College and ICHT to continue supporting clinical research projects and infrastructure.
Finally, acknowledgement of BRC funding is a contractual requirement and a condition of your funding. The BRC Office maintains regular reports on publication acknowledgements and this information may be used to guide future funding decisions.
What is the correct wording for acknowledgement?
Sample wording for each type of BRC funding can be found in the leaflet below. If you're unsure about wording, please contact us.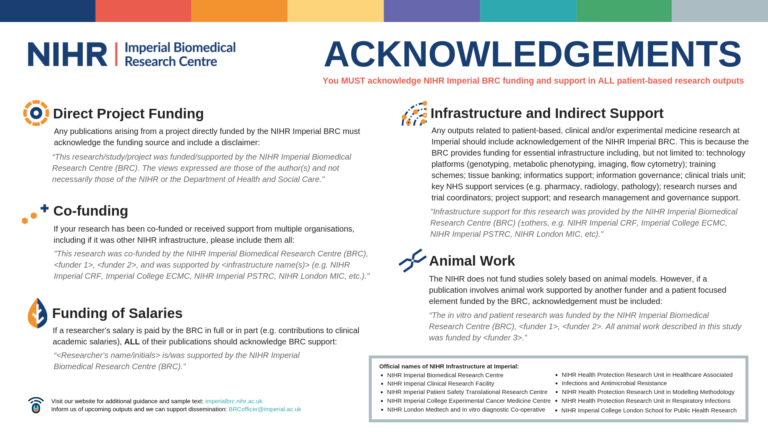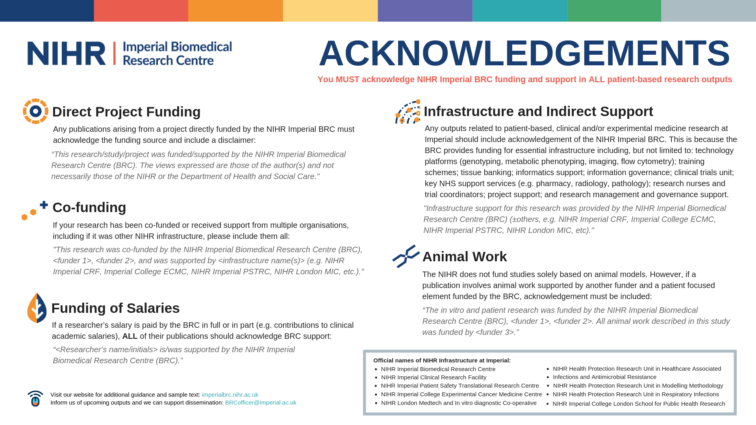 If you have any questions about acknowledgement of NIHR Imperial BRC funding, please contact us.
---
In addition to the BRC, Imperial College receives the following NIHR infrastructure grants which must be acknowledged as and when appropriate:
NIHR Imperial Clinical Research Facility
NIHR Imperial Patient Safety Translational Research Centre
Imperial College Experimental Cancer Medicine Centre
NIHR London Medtech and In vitro diagnostic Co-operative
NIHR Health Protection Research Unit in Healthcare Associated Infections and Antimicrobial Resistance
NIHR Health Protection Research Unit in Modelling Methodology
NIHR Health Protection Research Unit in Respiratory Infections
NIHR Imperial College London School for Public Health Research