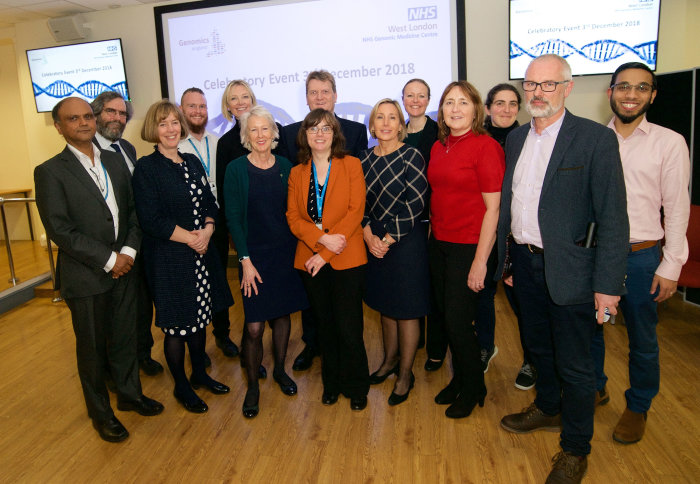 The national initiative led by Genomics England has reached its target of sequencing 100,000 genomes from patients and their family members. Approximately 85,000 participants gave their samples and anonymised medical information to yield better understanding of the role of genetic alternations in disease for better targeted treatments.
Imperial College Healthcare NHS Trust (ICHT), in partnership with the Royal Brompton & Harefield NHS Foundation Trust, The Royal Marsden NHS Foundation Trust and Chelsea and Westminster Hospital NHS Foundation Trust, was designated one of the first 13 NHS Genomic Medicine Centres (GMCs) in 2014 by NHS England. The GMC, led by ICHT, enrolled more than 3,000 participants with cancer or inherited rare diseases over the last four years, combining their genomic sequence data with medical records to bring personalised medicine closer to everyday reality.
At an event to celebrate reaching this milestone earlier this month, Sir John Chisholm, Chairman of Genomics England, acknowledged the vital role Imperial has played in the project and how it has helped make the UK world leaders in genomic medicine: "Imperial has never lacked ambition, especially as this project had very challenging targets to meet.  All staff who worked on this project should take personal pride in meeting their objectives."
Professor Julian Redhead, Medical Director of ICHT and Senior Responsible Officer for the GMC, hosted the event and explained how the project has the potential to change the delivery of patient care:
"The 100,000 Genomes Project is truly groundbreaking and it demonstrates the UK's ability to be at the forefront of genomic medicine. We have already used gene sequencing to produce life changing results. Some patients with rare diseases have been provided with diagnosis for the first time after years of uncertainty and living with their symptoms. We are now able to develop personalised treatment plans so that patients get the right treatments at the right time. This work will transform how the NHS will diagnose, treat and care for patients."
NIHR Imperial BRC Researcher Claire Shovlin, Professor of Practice in Clinical and Molecular Medicine and Consultant respiratory physician at ICHT, described work to sequence the genomes of patients with hereditary haemorrhagic telangiectasia (HHT). HHT is an inherited genetic disorder that affects more than 1.4 million people worldwide but it is estimated that 90 per cent of cases are currently undiagnosed. Identifying genes responsible for HHT and how they work, will enable family members to be screened more easily and be given preventative treatments at the right time and in the right way.
Genomic sequencing underpins numerous research activities across NIHR Imperial BRC, through our Genetics & Genomics Theme. The resulting data gathered through sequencing, together electronic health records, will help identify disease-causing and other genetic variations in cancer and rare diseases, and also contribute to developing machine-learning algorithms that will help integrate genomics into routine NHS healthcare. These activities are already underway at ICHT, through several BRC Themes.
Genomics England is wholly owned by the Department of Health & Social Care. The 100,000 Genomes Project is mainly funded by the National Institute for Health Research and NHS England. The Wellcome Trust, Cancer Research UK and the Medical Research Council have also generously funded research and infrastructure in the programme.