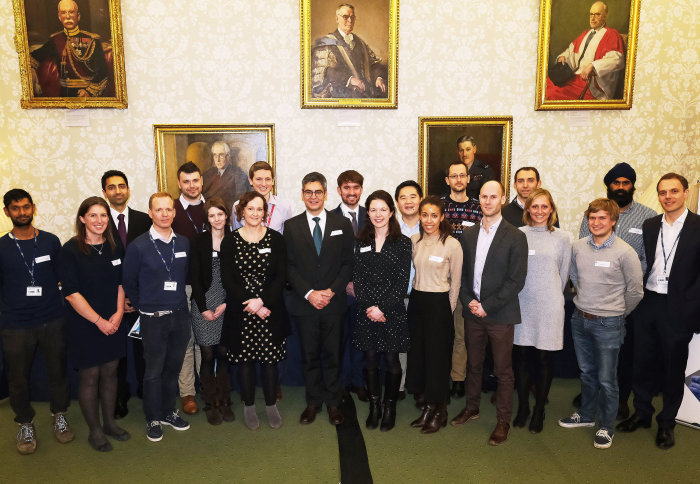 The Imperial 4i Clinician Scientist Training Scheme Celebration event took place in December 2019 at Imperial's South Kensington Campus.  Fellows on the programme presented a range of research projects including work in cardiology, rheumatology, infectious diseases and microbiology to an audience of senior academics and clinicians at Imperial College London and Imperial College Healthcare NHS Trust.
The Imperial Immunity, Inflammation, Infection and Informatics (Imperial 4i) Clinician Scientists Training Scheme provides funding and support for doctors in clinical training to undertake a PhD.  Dr James Howard, Dr Laura Watts and Dr Ruthiran Kugathasan were some of the research fellows who presented their projects in areas including artificial intelligence, seasonal flu and osteoporosis.
Professor Matthew Pickering, Deputy Theme Lead of the NIHR Imperial BRC Immunology Theme and Co-Director of the Imperial 4i Clinician Scientist Training Scheme, said:
"The aim of the Imperial 4i scheme is to develop the next cohort of clinical academic leaders.  This is vital as clinical scientists play a key role in driving innovation in healthcare delivery, disease prevention and the development of new treatments. Our show case event demonstrated the talent and exciting research of our 4i researchers."
The 4i programme, funded by the NIHR Imperial BRC and the Wellcome Trust, provides clinical scientists with the opportunity to carry out a project in infection, immunology, inflammation and informatics biomedical research. The fellows are supervised by senior academics at the College and senior clinicians at the Trust.
Through the Imperial Clinical Academic Training Office (CATO), participants on the programme have access to mentorship and are able to connect with other research fellows working across the College.  They also have access to other clinical academic career development and training needs.
The Imperial 4i Clinician Scientist Training Scheme was established in 2017. By the end of the programme in 2022, it will have provided doctoral training to 27 clinician scientists.
Read the full story by Maxine Myers, Imperial College London here