Event Chancellor sees cutting-edge medical research at Imperial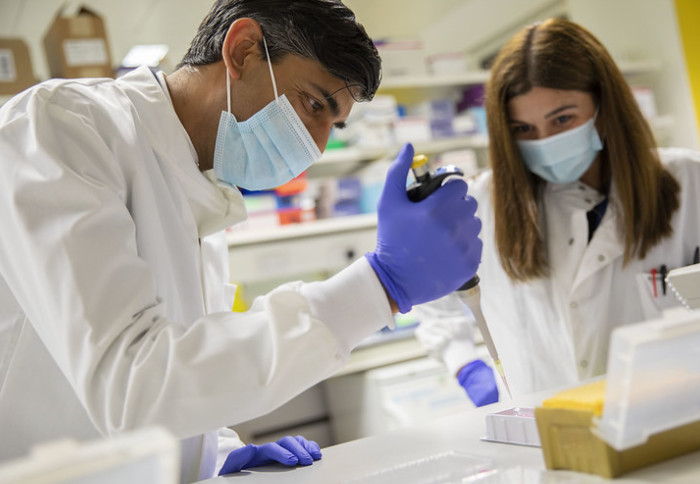 After unveiling government's spending plans for the next year this afternoon, the Chancellor of the Exchequer Rishi Sunak MP visited Imperial's Centre for Translational and Experimental Medicine to see first hand how world-class research is going from bench to bedside through Imperial's partnership with Imperial College Healthcare NHS Trust as part of Imperial College Academic Health Science Centre.
The Centre houses a number of dedicated research facilities for evaluating and developing new medical treatments through clinical trials. The research taking place in the labs ranges from basic molecular discovery science to studies on human tissue. The National Institute for Health Research and Wellcome Trust Imperial Clinical Research Facility (CRF) is also based there and is where COVID vaccine trials are taking place.
The Chancellor was welcomed by Imperial's Provost Professor Ian Walmsley and Dean of Faculty of Medicine Professor Jonathan Weber before seeing first-hand how COVID vaccine trials are operating. Professor Martin Wilkins, Director of the CRF, Head of Clinical Studies Dr David Owens and Susanne Fagerbrink, Lead Nurse, explained how the CRF runs the earliest phase clinical trials and has recently recruited volunteers to the Imperial and Oxford vaccine studies.
The Chancellor also saw cutting-edge research in Professor Anna Randi's laboratory. Professor Anna Randi, Professor of Cardiovascular Medicine at the National Heart and Lung Institute, investigates vascular disease, including how COVID-19 affects it. Professor Randi's work on targeting accelerated vascular ageing in chronic obstructive pulmonary disease (COPD) and cardiovascular disease and promoting vascular repair received funding from Imperial's NIHR's Biomedical Research Centre (BRC).
The visit followed the Chancellor's announcement of £15 billion research and development funding in 2021/22, including funding for clinical research to support delivery of new drugs, treatments and vaccines.
Read the full story by Lisa Bungeroth and Amna Siddiq here. © Imperial College London