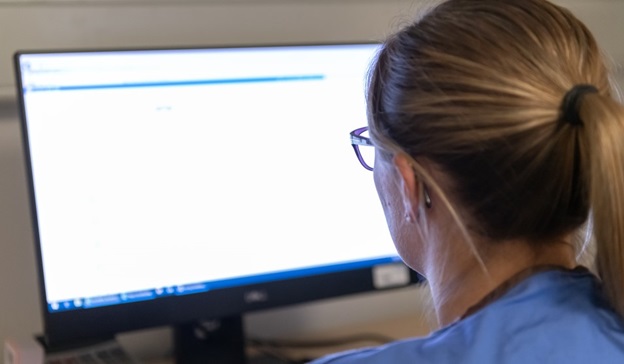 Imperial Health Charity grant helps doctors utilise data to improve outcomes for patients with ovarian cancer
Doctors at Imperial College Healthcare NHS Trust are pioneering a new approach to data analysis using the iCARE data system, that will provide key insights to help improve the diagnosis and treatment of patients with ovarian cancer.
The project will use advanced data analysis techniques on anonymised patient data in the NHS Imperial Clinical analytics, Research and Evaluation (iCARE) system, which is funded by the NIHR Imperial BRC. The analysis will then identify trends that may provide key information about how to improve patient care pathways and display this information to healthcare staff in near real time.
In females in the UK, ovarian cancer is the 6th most common cancer, with around 7,500 new cases every year. Many patients do not visit their doctor until their cancer is at an advanced, incurable stage because the symptoms can be vague and often similar to other illnesses. This means that the prognosis for women with ovarian cancer remains quite poor.
The team, led by Dr Laura Tookman, believe that by analysing this patient data, they can better understand the trends and characteristics of ovarian cancer cases that are more difficult to pick up when considering patients individually. However, as the data is currently captured in different ways by different doctors, through free text boxes without standardised wording, the trends that can be identified are limited.
Funded by Imperial Health Charity through the Innovate at Imperial grant, this project will use advanced text analytics to clean up and make sense of the data that has already been captured and securely stored in NHS systems during routine encounters. The data is carefully anonymised and untraceable back to individuals. Access to the anonymised data for research was approved by the Imperial Data Access and Prioritisation Committee enabling the research team to use the data to improving patient outcomes and care. All research will be carried out on NHS systems and will not leave Imperial College Healthcare.
A recent national audit revealed inequalities for patients with cancer. The probability of patients accessing surgery and chemotherapy varied with geographical location across England but the reason for this and the impact on patient outcomes is still unclear. This new data analysis project will aim to better understand these inequalities by analysing in detail the data of existing patients with the hope of improving outcomes for patients in the future.
The team will look for trends based on different demographics such as age, ethnicity or geographical location and identify whether these indicate inequalities in diagnosis, treatment or management. They will work with clinical colleagues to apply the findings to the clinical pathway and, hopefully, improve the experience and outcomes for patients.
Commenting on the project, Dr Tookman said: "There is a wealth of patient data already captured in NHS systems that has the potential to give us hugely important insights into a variety of health conditions. In the case of ovarian cancer, where symptoms can be difficult to distinguish from other diseases and so diagnosis can come very late, this data has the real potential to make a difference.
"Our project will take a data set that is currently quite difficult to navigate and make it useful for clinicians, who we hope will then be able to improve outcomes and reduce inequalities for their patients as a result of our findings."