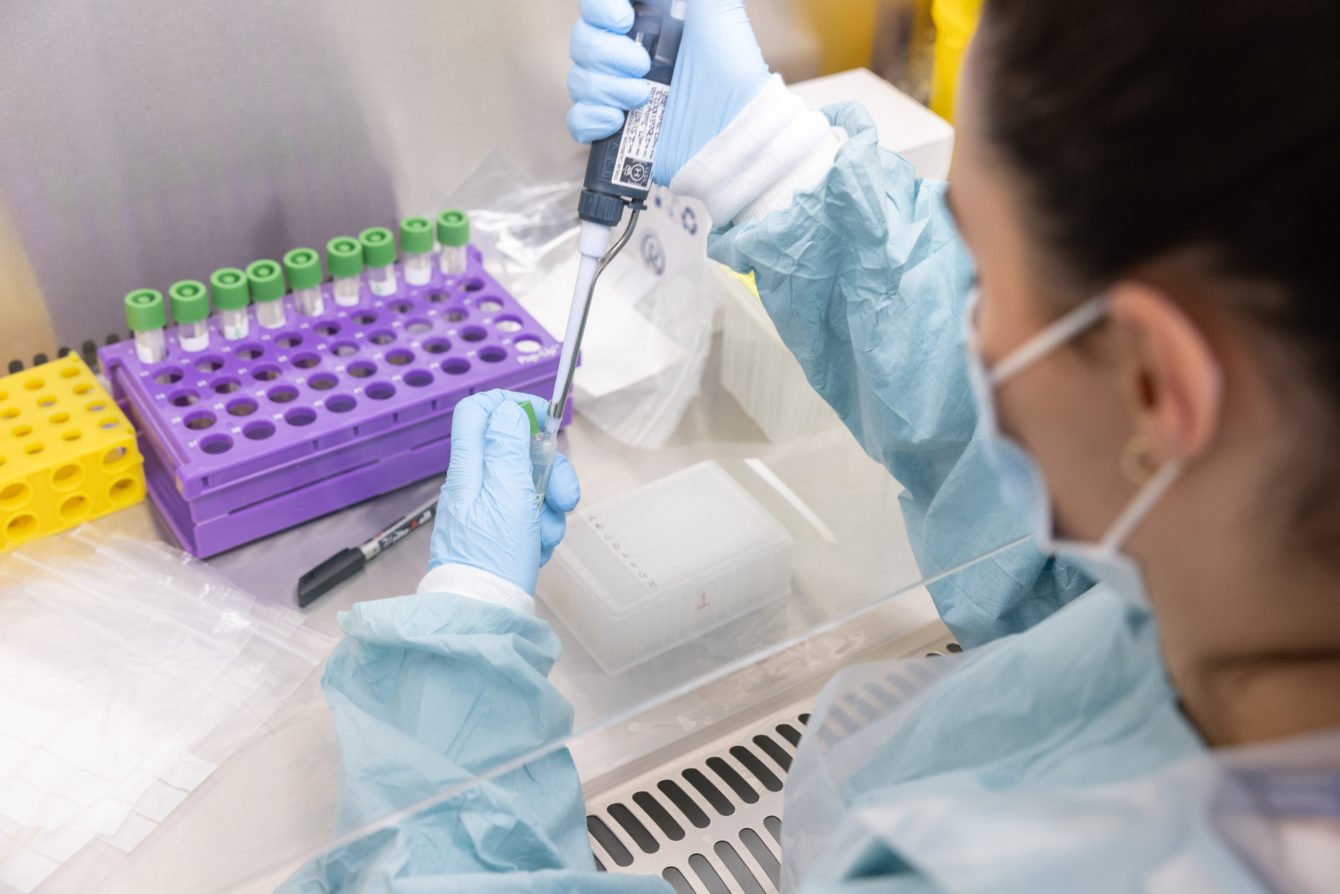 Six NIHR Imperial Biomedical Research Centre researchers from across Imperial College London and Imperial College Healthcare NHS Trust have been elected to the Fellowship of the Academy of Medical Sciences for their outstanding work in their fields.
The researchers are among 60 outstanding biomedical and health scientists to be elected Fellows of the Academy of Medical Sciences (AMS) this year.
According to the AMS, the new crop of Fellows have been recognised for their rem
arkable contributions to biomedical and health science and their ability to generate new knowledge and improve the health of people everywhere.
This year, the Imperial researchers awarded fellowships are Professors George Hanna, Iain McNeish, Shiranee Sriskandan, Nick Grassly, Anthony Gordon, and Petra Hajkova. They will be formally admitted to the Academy on 27 June 2022.
Professor Jonathan Weber, Dean of the Faculty of Medicine at Imperial College London said: "It is a privilege to be able to say that six of our researchers have been elected to the Fellowship of the Academy of Medical Sciences this year.
"These richly deserved awards are a testament to their outstanding academic careers and the high quality of biomedical research across Imperial College in recent years.
"On behalf of the College, I would like to warmly congratulate all of these new Fellows on this public recognition of all their outstanding achievements."
Professor Tim Orchard, chief executive of Imperial College Healthcare NHS Trust, said: "I am extremely proud to see four of our staff have been elected to the Fellowship of the Academy of Medical Sciences. I would like to congratulate them all on this incredible achievement and on the recognition of their vital research."
Professor Anthony Gordon, Department of Surgery & Cancer
Anthony Gordon is Chair in Anaesthesia and Critical Care at Imperial College London a consultant in intensive care medicine at Imperial College Healthcare NHS Trust. He is an internationally recognised scientific leader in his field. His work focuses on translating research into improved care for patients with sepsis, including developing precision medicine and investigating the use of -omic techniques and artificial intelligence (AI) to improve outcomes.
Over the course of the pandemic, he has led efforts to evaluate treatments for critically ill patients with COVID-19, as UK Chief Investigator for the international REMAP-CAP trial. The innovative adaptive trial design enabled the team to test multiple interventions and demonstrate the clinical effectiveness of treatments including monoclonal antibodies, blood thinners and corticosteroids, which has ultimately led to saving thousands of lives globally.
Professor Gordon said: "I am honoured that the Academy has recognised my contributions to research in the area of critical care. I am fortunate to work with a wonderful team at Imperial and also have so many great collaborators around the world that have enabled us to improve care for critically ill patients with sepsis and COVID-19."
Professor Shiranee Sriskandan, Department of Infectious Disease
Shiranee Sriskandan is a Professor of Infectious Diseases and honorary consultant who works at the Hammersmith Hospital campus and in the MRC Centre for Molecular Bacteriology & Infection at Imperial. Her team's work focuses on Streptococcus pyogenes, the bacterium that causes tonsillitis and scarlet fever, alongside research on invasive infections such as necrotising fasciitis, maternal sepsis, and toxic shock. The research group is aiming to understand trends in bacterial diseases to inform public health interventions.
Professor Sriskandan said: "Working at the interface between patients with acute infections and laboratory science can be challenging, but I am lucky to have had the support of many colleagues and collaborators.
"I am grateful to the Academy and hope that this fellowship will help me to increase awareness of the burden of group A streptococcal disease, both here and worldwide."
Professor George Hanna, Department of Surgery & Cancer
George Hanna is the Head of Imperial's Department of Surgery and Cancer, Director of the NIHR London In Vitro Diagnostic Cooperative and a consultant general surgeon at Imperial College Healthcare NHS Trust. He leads a CRUK research programme to develop and validate a non-invasive breath test as a platform diagnostic technology to detect gastrointestinal cancers. He is also a consultant oesophageal cancer surgeon working at Hammersmith Hospital, Imperial College Healthcare NHS Trust.
Professor Hanna said: "The recognition by the Academy of Medical Sciences is a credit to the high quality and hard work of my research team at Imperial, for whom I will be always grateful."
Professor Petra Hajkova, Institute of Clinical Sciences
Petra Hajkova is a Professor of Developmental Epigenetics at the MRC London Institute of Medical Sciences at Imperial's Hammersmith Hospital campus. Her research laboratory's focus is on trying to understand the molecular processes that underlie global erasure of epigenetic information. The laboratory studies epigenetic reprogramming events in the developing mouse germ line and in the mouse zygote.
Professor Hajkova said: "I am delighted to be elected as a Fellow of the Academy of Medical Sciences and hope that this will promote further interactions with our colleagues in the fields of reproductive and regenerative medicine.
"The research that has come out of my laboratory would not have been possible without my present and past team members; I would like to take this opportunity to thank them all for their passion, tenacity and dedication to tackle as yet unanswered important biological questions."
Professor Iain McNeish, Department of Surgery & Cancer
Iain McNeish is a Professor of Oncology and the Head of the Division of Cancer in Imperial's Department of Surgery and Cancer and a medical oncologist at Imperial College Healthcare NHS Trust. His research is focused on ovarian cancer, specifically on developing improved therapies through improved understanding of disease biology. He is also the Director of the Ovarian Cancer Action Research Centre and Cancer theme lead in the Imperial NIHR Biomedical Research Centre. Through the British Translational Research Ovarian Cancer Collaborative (BriTROC) project, he is working to understand what causes ovarian cancer to recur.
Professor McNeish said: "I am delighted (but rather surprised) to have been elected as a Fellow of the Academy of Medical Sciences.
"My main thanks must go to my research team at Imperial, who do all the hard work and with whom it is a privilege to work, and to my colleagues at Hammersmith Hospital who have done so much to support our clinical trials."
Professor Nick Grassly, School of Public Health
Nick Grassly is a Professor of Infectious Disease and Vaccine Epidemiology who works on vaccine trials and disease surveillance. His research brings together epidemiological analysis and laboratory testing to identify optimal methods for disease prevention, focusing on pathogens in low- and middle-income countries such as polio, rotavirus and typhoid. He has led trials of novel vaccine schedules and developed a new diagnostic and sequencing method for poliovirus that is helping global polio eradication. He also contributes to global health policy, most recently during the COVID-19 pandemic as an advisor to the WHO SAGE COVID-19 vaccines working group.
Professor Grassly said: "I am delighted to be awarded this prestigious fellowship. Impactful global health research needs strong, multinational teams. I have been lucky to work with some amazing scientists around the world. I would like to thank them and my research group here at Imperial College London for their great work and continued collaboration."
Commenting on this year's batch of new Fellows, President of the Academy of Medical Sciences, Professor Dame Anne Johnson, said: "It gives me great pleasure to welcome these 60 experts to the Fellowship to help to address the major health challenges facing society.
"Each of the new Fellows has made important contributions to the health of our society, with a breadth of expertise ranging from the physical and mental health of young people to parasitic diseases and computational biology."
She added: "The diversity of biomedical and health expertise within our Fellowship is a formidable asset that in the past year has informed our work on critical issues such as tackling the COVID-19 pandemic, understanding the health impacts of climate change, addressing health inequalities, and making the case for funding science.
"The new Fellows of 2022 will be critical to helping us deliver our ambitious 10-year strategy that we will launch later this year."