Award Dr Gemma Clunie has been awarded the NIHR Development and Skills Enhancement Award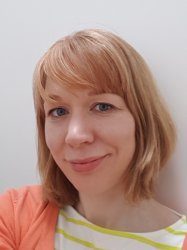 Gemma Clunie, a Clinical Specialist Speech and Language Therapist (SLT) at Imperial College Healthcare NHS Trust within the National Centre for Airway Reconstruction, has been awarded the NIHR Development and Skills Enhancement Award (DSE), which will help her gain specific skills and experience to underpin the next phase of her research career. DSE is a post-doctoral level award available to existing NIHR Academy members only.
Gemma's research career was initiated in 2017 with a grant from the Imperial Health Charity (IHC), which funds innovative medical research with support from the NIHR Imperial BRC, to study a rare condition that causes voice and swallowing difficulties due to narrowing of the airway, known as laryngotracheal or airway stenosis.
Her research progressed and she later achieved a PhD that focused on voice and swallowing concerns and outcomes of adults with the same condition who come to the National Airway Reconstruction Centre at Imperial College Healthcare NHS Trust for complex surgical reconstruction of their upper airway. Her doctoral study revealed that further research is necessary to develop properly validated outcome measures for this patient group, with a future vision of developing a complex intervention to test in a feasibility study.
With the NIHR DES award, she intends to apply COSMIN methodology to develop outcome measures and plan complex interventions, as well as develop her leadership skills for career progression. Besides, she has established networks with the Imperial Clinical Trials Unit (ICTU) which will allow her to spend time observing and learning from their work, including spending time at a centre of excellence in the USA.
The award, therefore, will enable her to progress her research plan towards outcome measure validation. She also aspires to apply for a more competitive funding application- Advanced Fellowship by NIHR in the future.