Event The National Heart and Lung Institute (NHLI) held an event to announce ten new portraits of staff and students to update the imagery across their buildings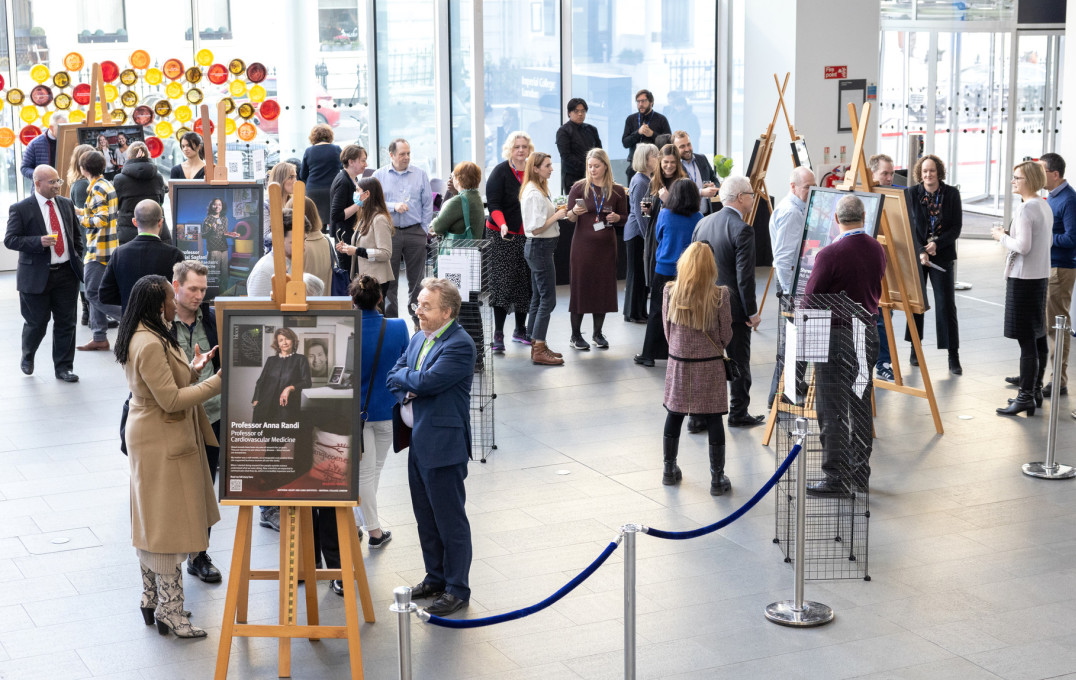 The event was instigated by the Head of NHLI, Professor Edwin Chilvers, who is also the BRC Respiratory Theme Lead, and carried forward by a creative team led by Helen Johnson, Communications and Marketing Manager, NHLI.  The founding premise of the project was that anyone should be able to look at these portraits and see themselves and know that they are welcome and they belong in science and at NHLI.
This project set out to showcase the vibrant mix of people, in terms of cultures, religions, nationalities and stories, behind the great science and teaching that the Institute is known for.
Dr Blerina Ahmetaj-Shala rightly expressed, "Sometimes our stories make us stronger".
To initiate this remarkable project, the NHLI community was asked to nominate inspiring staff and students across the Department. The portraits showcase the ten final chosen nominees, each contributor was asked to choose three objects to represent who they are, or what they believe is important, to feature in the portrait with them. This was a nod to more classic portraiture where there can be symbolic items within the paintings and was also reflected in the lighting set up for the photographs.
Last week the contributors were joined by members of NHLI, the Faculty of Medicine and our President Professor Hugh Brady to showcase the final ten portraits. Most of these have now been hung in the Guy Scadding Building on the Brompton Campus, with the rest set to be hung in ICTEM on the Hammersmith Campus. Each portrait features a QR code that allows the viewer to see a full interview piece online. These are being released online in a staggered fashion with two interviews available at present.
Professor Stephen Curry exclaimed, "Making waves is a delightful and beautifully executed project to showcase the diverse brilliance of the people who work at the NHLI. The photography is superb and it was a lovely touch to ask each person to talk about three items that meant a lot to them".
Follow the link here to the main page of Making Waves- Making Waves (imperial.ac.uk)