Event International Clinical Trials Day- 20 May 2023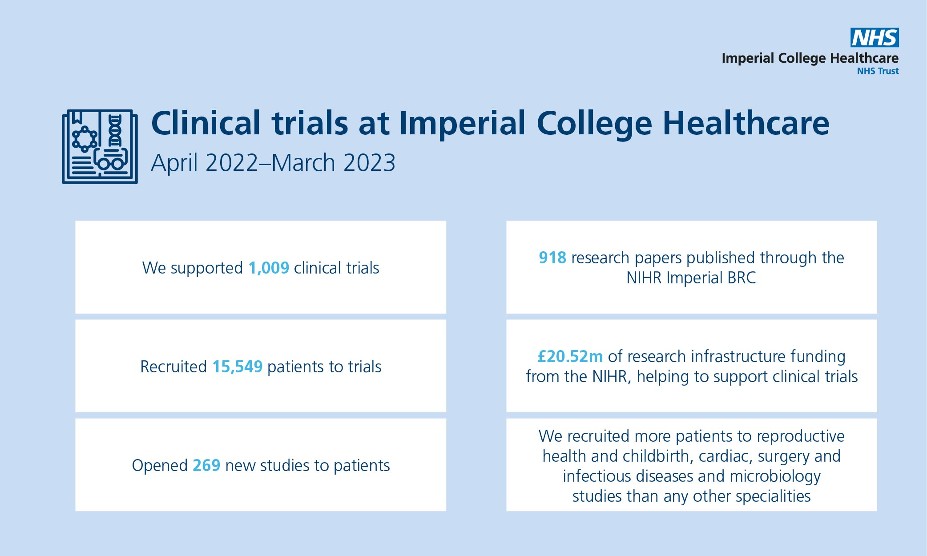 This International Clinical Trials Day (20 May 2023), we are reflecting on the clinical research achievements over the past year. This has included running over 1,000 clinical research trials, an increase of around 10 per cent compared to 2021/22.
Our clinicians and researchers have made a huge contribution to improving the diagnosis, treatment and management of a wide range of conditions and diseases, particularly through the National Institute for Health and Care Research (NIHR) Imperial Biomedical Research Centre (BRC), run in partnership with Imperial College London, and through Imperial College Academic Health Sciences Centre (AHSC), another partnership with Imperial College as well as with several other trusts and research institutions in north-west London.
In the 12 months to March 2023, we recruited more than 15,500 patients to our clinical trials, mostly in the areas of reproductive health and childbirth, cardiology, surgery and infectious diseases and microbiology.
Our main clinical research infrastructure is provided through the NIHR Imperial BRC which contributed more than £20.5 of funding last year.
Dr Bob Klaber, Director of Strategy, Research and Innovation, said: "Clinical trials are vital in developing and testing better treatments, diagnostics and technologies, improving patient care locally, nationally and globally.
"That's why it's so good to see the growth in clinical trials last year. We have even bigger ambitions for the coming year and beyond as we embark on the latest five-year NIHR BRC funding programme, with an increase in funding and additional areas of research. We want as many of our patients and our staff to be able to get involved in research, and increasingly, we want our wider communities to help shape our research priorities."