Prevention At-home COVID-19 antibody tests could determine certain risks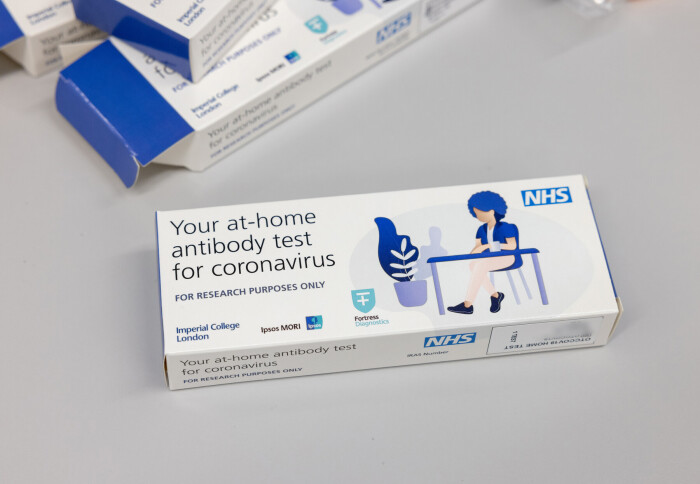 New research led by Imperial College London, Including NIHR Imperial BRC Theme leads from the SGE and Infection and AMR themes with Infrastructure support for the Department of Epidemiology and Biostatistics provided by the NIHR Imperial BRC, has shown that lateral flow antibody tests could play a role in understanding population and individual level risk following COVID vaccination. This could inform the timing and roll-out of COVID vaccine boosters.
The research, published this week in Nature Communications, forms part of Imperial's REACT study, which measured the prevalence of SARS-CoV-2 antibodies in England using rapid tests administered by participants at home. These finger-prick tests detect antibodies to the virus that causes COVID-19 following infection or vaccination.
This research investigated whether a negative antibody test after COVID vaccination was a marker of lower protection against severe disease. More than 350,000 adults provided self-test results between January – May 2021 during the vaccine roll-out in England. These results were then linked to routinely collected data on hospital admissions and death in the following six to nine months.
In the study, more than 190,000 people had received one or more vaccinations at least 14 days before the antibody test, two-thirds of whom reported a positive self-test result. Those who tested negative were more than twice as likely to be admitted to hospital with COVID-19 than those who tested positive. There were 389 deaths during the study follow-up period, including 20 from COVID-19. Overall, the risk of death was 1.6 times more likely among people who tested negative than those who tested positive.
Professor Helen Ward, from Imperial's School of Public Health and NIHR Imperial BRC SGE Theme lead, said: "This simple COVID antibody test may help understand who may be at higher risk of poor health outcomes in the subsequent 6 to 9 months."
The study included 26,000 clinically extremely vulnerable people (according to the Joint Committee on Vaccination and Immunisation criteria) who had received one or more vaccine doses. The risk of death in those who tested antibody-negative was 3.6 per 1000, compared to 1.7 per 1000 in those who tested positive.
The results from the antibody tests did not provide additional insights into who was at risk of poor health outcomes over and above using a combination of other health-related indicators such as age, sex, and pre-existing illnesses. However, the researchers suggest that nonetheless, these simple tests may provide a marker of population immunity that could inform the timing and prioritisation of COVID vaccine boosters.
Professor Paul Elliott, Director of the REACT programme, said: "Millions of people in England took part in the REACT Study of COVID-19, testing for the presence of the virus or antibodies. This report shows the importance of following people over time to understand who may be at risk of poor health outcomes in the future."
The REal-time Assessment of Community Transmission (REACT) research programme was commissioned and funded by the Department of Health and Social Care in England and led by Imperial College London with logistic support from Ipsos, and infrastructure support from the National Institute for Health and Care Research (NIHR) Imperial Biomedical Research Centre (BRC).