Diagnostic Study raises possibility of personalised ovarian cancer treatments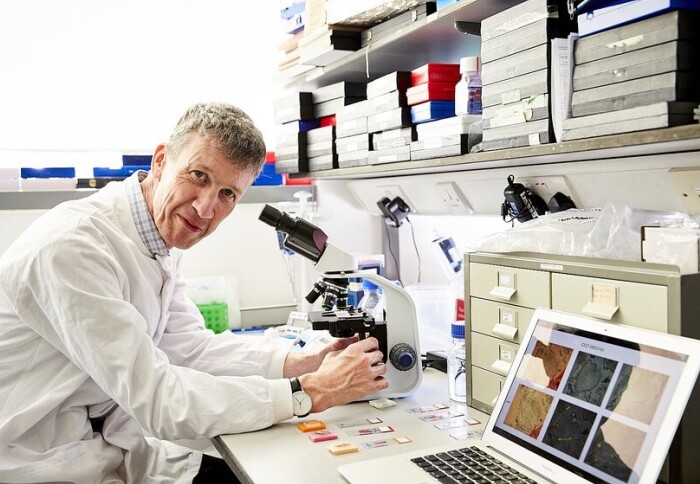 New research uncovers reasons for relapse and treatment resistance in ovarian high-grade serous cancer ((HGSC). The Ovarian Cancer Action (OCA) funded BriTROC research team, led by Professor Iain McNeish, Surgery and Cancer Theme lead for the NIHR Imperial BRC, has made two important discoveries. One, genetic mutations are not responsible for cancer recurrence between diagnosis and relapse and two, two new genomic markers have been identified, KRAS amplification and copy number signature 1, that can predict early relapse after chemotherapy.
It is hoped that these findings take us one step closer to personalised treatments for ovarian HGSC and improved survival rates for women with this disease.
HGSC, the commonest form of ovarian cancer, is often challenging to detect early, leading to advanced-stage diagnoses. While initial responses to chemotherapy are generally positive, most patients will experience relapses, and the effectiveness of treatment decreases with each round, reducing survival chances. The complicated genetic nature of these tumours has made it difficult to develop effective treatments, and current strategies based on BRCA/HRD status only benefit half of the patients.
Unlike some other cancers, the researchers found few genetic mutations occurring between diagnosis and relapse in HGSC. This suggests that other factors play a significant role in cancer recurrence and treatment resistance. By exploring these factors, the research team aims to uncover new personalised treatment options for women with HGSC.
The research also sheds light on immune activity within these tumours, potentially linking to Professor McNeish's OCA-funded project concerning the tumour microenvironment in ovarian cancer.
The study utilised ovarian cancer samples from over 250 women who participated in the BriTROC-1 study, which investigated mechanisms of recurrence and resistance in HGSC. The success of this trial has led to the initiation of the newly funded BriTROC-2 trial, which aims to collect more samples from relapsed patients across 14 research hubs in the UK, further advancing ovarian cancer treatment.
Speaking about the findings, Prof Iain McNeish said: "These results are the culmination of a decade's worth of research and confirm that HGSC is a disease of huge complexity. We know that many women with HGSC will relapse after responding to surgery and chemotherapy. However, unlike other cancers, we do not see consistent changes in the DNA landscape when the cancers recur. We did identify new genomic markers at the time of diagnosis that predict early relapse. This information will be very useful in our drive to develop new treatments for women with HGSC, especially for those who may relapse soon after finishing their first-line treatment."
Cary Wakefield, Chief Executive of Ovarian Cancer Action, said: "These are very exciting breakthroughs in understanding this complex disease which in turn will facilitate better treatment options. We are excited to see what other exciting discoveries come from this and the newly funded BriTROC-2 trial. Together we are all working towards a shared goal – where no woman dies of ovarian cancer."
This article is adapted from materials produced by  Ovarian Cancer Action.