EventTraining The pathway to personalised treatments for managing diabetes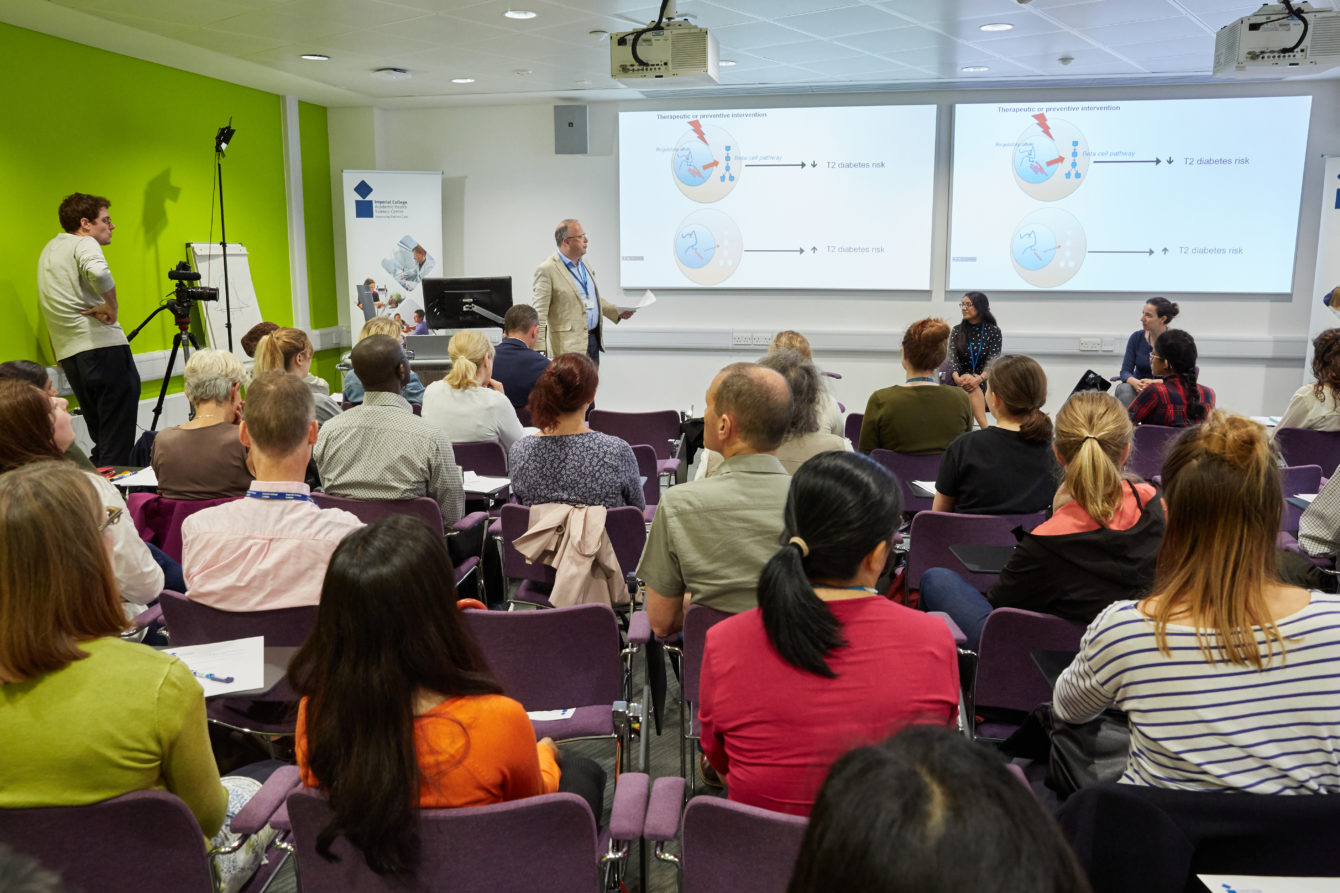 Understanding the role of genes in diabetes risk and improving the diagnosis of diabetes can help to deliver more precise and effective treatments.
Diabetes is a lifelong condition where glucose (sugar) in the blood is too high. We get glucose released in the blood supply when our bodies break down the carbohydrates that we consume. Insulin is a hormone that is produced by the pancreas which allows the glucose in our blood to enter our cells and fuel our bodies. If you do not have diabetes, your pancreas senses when glucose has entered your bloodstream and releases the right amount of insulin, so the glucose can get into your cells. But if you have diabetes, this system does not work. There are several types of diabetes but the main ones are Type 1 and Type 2. Type 1 diabetes is when you cannot make any insulin at all and Type 2 diabetes is when the insulin you make either does not work effectively, or you cannot produce enough of it.
Dr Ines Cebola, postdoctoral researcher in the Beta Cell Genome Regulation Laboratory at Imperial College London, explained how researchers have mapped the regions in the genome that orchestrate gene activity in the cells of the pancreas that produce insulin, a hormone that regulates blood sugar. The researchers have identified genome sequences that drive gene activity in insulin-producing cells which are located in clusters, and that genetic variants known to be linked to diabetes risk are also found in these clusters. Therefore, stratifying patients at higher risk of developing type 2 diabetes by dysfunction of the insulin-producing cells will allow clinicians in the future to administer more targeted treatments.
Dr Shivani Misra, consultant in metabolic medicine at Imperial College Healthcare NHS Trust presented findings from the MY DIABETES study. This study aimed to find out how Type 1 and Type 2 diabetes vary in different ethnics groups, and whether Maturity Onset Diabetes of the Young (MODY) is found in all ethnic groups. MODY is a rare type of diabetes where approximately 20-40,000 people in the UK have it, but over 80% of those are mistakenly diagnosed with Type 1 or Type 2 diabetes. Read the complete review of the seminar here.
The Imperial College Academic Health Science Centre (AHSC) seminar series brings together experts to showcase the work of the AHSC, a partnership between Imperial College London and three NHS Trusts. It aims to translate world-leading discovery science into new diagnostics, devices and therapies as quickly as possible, for the benefit of patients and populations worldwide. View videos of all previous AHSC seminar's here.