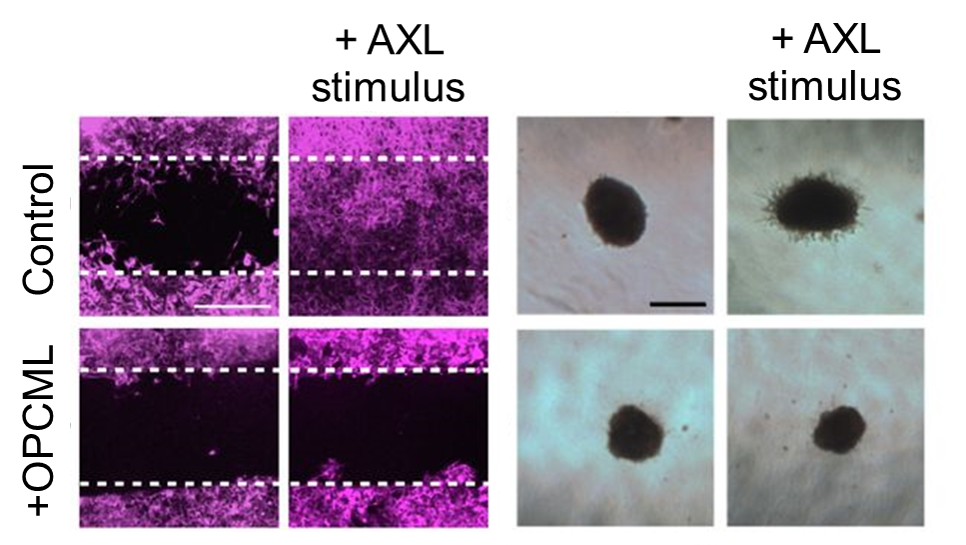 Epithelial ovarian cancer is the most lethal gynaecological malignancy, typically diagnosed at a late stage, owing to lack of obvious symptoms at early stages of cancer formation and inclination for quick local dissemination, which significantly reduces changes of survival.
Researchers from the Ovarian Cancer Action Research Centre at Imperial College London identified a mechanism to potentially repress an oncogenic protein AXL, which is implicated in malignant progression of ovarian cancer and several others. Although inhibitors of AXL have been developed, their therapeutic efficacy is yet to be established, while molecular mechanisms regulating AXL are currently unknown.
In a study funded by Ovarian Cancer Action, with infrastructural support from the NIHR Imperial BRC, Imperial ECMC and Imperial CRUK Centre, the authors demonstrated that a tumour-suppressing protein called OPCML directly interacts with oncogenic AXL, thereby altering its localisation at the cell surface, and de-activating its tumour-promoting capabilities.
One of the common challenges for targeted anti-cancer agents is delivery of a drug into the cell, which sometimes calls for large doses to be administered, causing toxicity. When OPCML is present in cells, it acts as a 'natural' suppressor of AXL, thus reducing the requirement for large doses of AXL chemical inhibitors. Additionally, OPCML acts outside the cell, and without the need to enter the cell, it could therefore represent an efficient and highly selective therapeutic strategy in AXL-overexpressing cancers.
Dr Jane Antony, first author of the study said: "This study will enable new treatment strategies to be designed to fight recurrent and aggressive ovarian cancer, for which there are currently limited treatment options. AXL has always been a key player in cancer metastasis and these results reveal how these cancer drivers can be modulated by tumour suppressors such as OPCML."
Dr Chiara Recchi, lead author of the study, said: "Our results are really exciting because they reveal an unusual biological mechanism and shed light on the function of AXL, pointing us in the right direction to find a way to switch it off in cancer patients. In this context, OPCML has a tremendous potential as therapeutic."
Professor Iain McNeish, NIHR Imperial BRC Cancer Theme Lead and Director of Ovarian Cancer Action Research Centre at Imperial, said: "At the Ovarian Cancer Action Research Centre, our aim is always to translate important scientific discoveries into new treatments for our patients. These exciting results reveal potential new mechanisms by which we can attack ovarian cancer."
Click here for the original press release.
Image Credit: Adapted from the publication, Figure 4: OPCML abrogates Gas6/AXL‐mediated increase in cell motility and invasion.