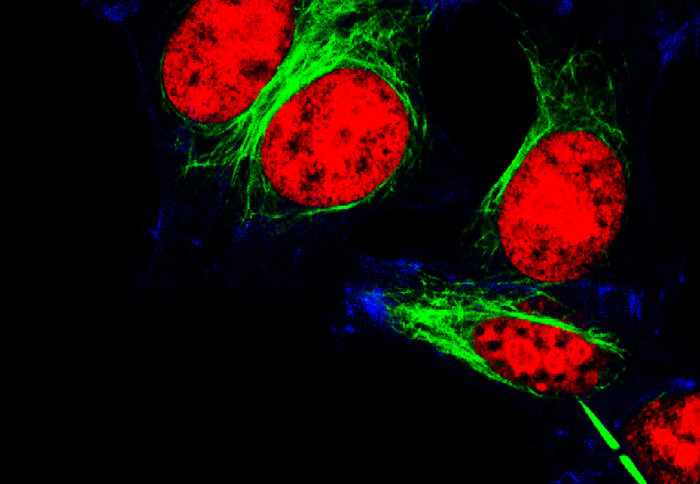 Distinct gene signatures were identified, which could predict ovarian cancer patient outcomes
High grade serious ovarian cancer (HGSOC) is the most common type of ovarian cancer – it is challenging to detect early, given a lack of distinct symptoms. Therefore, it is frequently diagnosed at an advanced stage, when likelihood of a cure is significantly reduced. Furthermore, HGSOC are genetically extremely complex, and previous attempts to assign molecular subtypes to these tumours were largely unsuccessful. This, in turn, makes identification and utility of targeted treatments virtually impossible, and overall survival from this disease has not improved for over two decades.
A recent collaborative study used samples from >500 ovarian cancer patients to identify genetic signatures that could predict disease behaviour in response to treatment. Using 'big data' processing techniques, scientists from Imperial College London, Cancer Research UK Cambridge Institute and University of Cambridge generated absolute copy number profiles from patients in the British Translational Research Ovarian Cancer Collaborative (BriTROC-1) cohort, and found seven distinct genetic patterns with potential clinical utility.
This multi-disciplinary team identified and validated each of the seven genetic patterns using rapid and cost-effective approaches, which could be readily implemented clinically. Each of these patterns represented a distinct mechanism of a DNA mutation, and was linked to how well the patients responded to different treatments, including becoming resistant to chemotherapy, although larger studies are required to help further refine and interpret these genetic patterns.
Professor Iain McNeish, co-lead researcher and NIHR Imperial BRC Cancer Theme Lead, said: "Ovarian cancer lags behind many other cancers because we haven't been able to understand how its complex molecular changes relate to targeted therapies. Our new approach helps to decode the complexity and will improve outcomes and treatment choices for our patients."
Dr James Brenton, co-lead researcher, based at the Cancer Research UK Cambridge Institute, said: "Choosing personalised therapies for women with high grade serous ovarian cancer is difficult because of the very complex genetic changes in their cancer cells. Our study is a turning point for our understanding of the disease as for the first time we can see each patient's unique combination of mutation patterns and start to identify the genetic causes of a patient's cancer using cheap DNA testing in the clinic. The next step will be to develop methods to work out how to target these genetic causes with new therapies in trials."
This study, published in Nature Genetics, represents an excellent example of multi-centre convergent research and collaboration between different charity-supported research centres, and NIHR BRCs.
Cary Wakefield, Chief Executive of research charity Ovarian Cancer Action, said: "BriTROC was a unique project to co-fund as it brought together over 280 patients from 15 hospitals across the UK. This is a very exciting breakthrough in understanding this complex disease which in turn will facilitate better treatment options. Together we are all working towards a shared goal – where no woman dies of ovarian cancer."
This study was funded by Ovarian Cancer Action, Cancer Research UK, and NIHR Imperial and Cambridge Biomedical Research Centres.