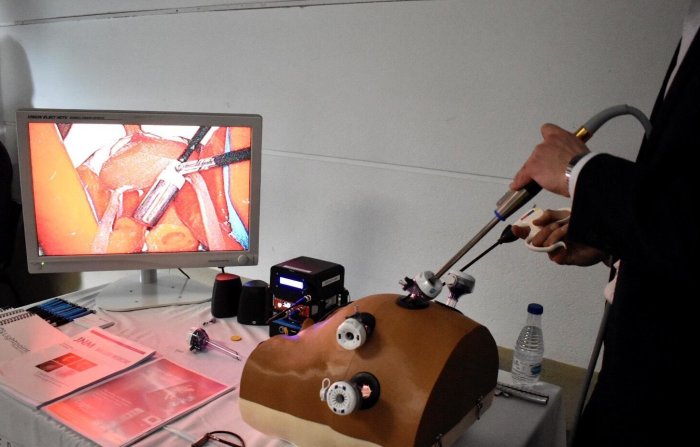 A new project led by Imperial College London could help surgeons to visualise tumours during keyhole surgery, making the treatment more precise. Researchers at the College's Institute of Global Health Innovation (IGHI) and NIHR Imperial BRC Surgery & Technology Theme will enhance an existing surgical probe developed by Lightpoint Medical, to generate 'visual heat maps' of prostate tumours. By combining robotics and medical imaging they will develop a system that will highlight cancerous tissue in real-time on screen in the operating theatre. If successful, in future this minimally invasive tool could mean that fewer men need to return to hospital for additional treatment, such as radiotherapy or cancer drugs, which can have a major impact on patients' quality of life.
"To the naked eye, cancerous tissue is virtually impossible to distinguish from healthy tissue, meaning surgeons are often left with difficult and risky decisions on how much to remove," said Professor Dan Elson, a researcher from NIHR Imperial BRC Surgery Theme. "Our research aims to give surgeons the crucial information they need to guide decisions in the operating theatre, which we hope could one day transform the outlook for prostate cancer surgery by reducing side effects and the likelihood that the disease will return."
While there have been great advances in surgical technology, including robotic tools and keyhole procedures, surgery for prostate cancer remains imprecise. Residual cancerous tissue is found in up to 38% of men after surgery, leaving them at risk of recurrence. But removing too much tissue as a precaution can also lead to life-changing long-term side effects, such as incontinence and impotence.
This project seeks to help solve these issues. Elson's team will build on the existing capabilities of Lightpoint Medical's probe. Currently, the probe works by detecting radioactive tracer molecules – similar to those used in a type of nuclear imaging called SPECT – that specifically stick to markers on prostate cancer cells. When the probe picks up a radioactive signal inside the patient, it makes a sound – similar to how a Geiger counter works – to indicate cancerous tissue and guide the surgeon's knife.
This technology, which is designed for use with robotic keyhole surgery, will enter human clinical trials this year. The probe promises a significant step forward for surgeons to be able to detect cancer in real-time in the operating theatre, but Elson's team hopes to push the boundaries of the technology even further by enabling visualisation with the probe. "By adding imaging technology, we will be able to offer surgeons even greater usability and make the system more intuitive, with a human-centred design," said David Tuch, CEO of Lightpoint Medical.
Elson's team will use their expertise in surgical innovation and imaging to integrate visual feedback into the probe. Their technology will convert the radioactive signal into an image that will be overlaid onto real-time camera footage, generating a cancer image that surgeons can use to aid decision-making. For now, the development will take place in the lab. If successful, the researchers plan to progress this work into a human trial and pursue its uptake into the clinic, while also investigating whether the technology could be applied to other cancer types, too.
The work has been funded by the National Institute for Health Research.
This story was written by Justine Alford and is © Imperial College London.