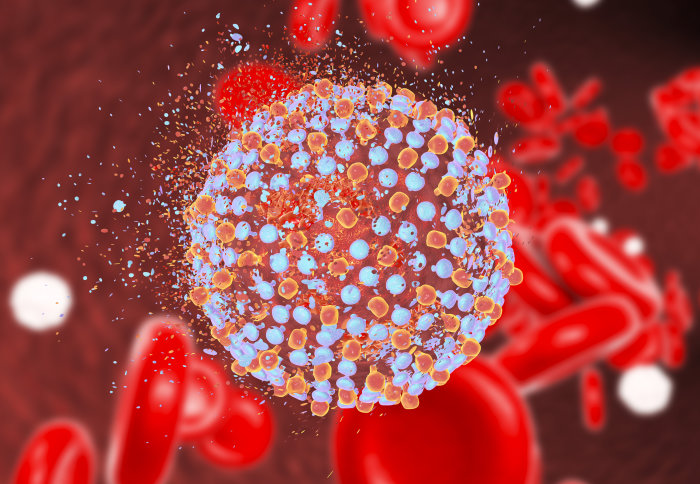 A large Imperial-led study has revealed valuable insights into the impact and risk factors for cancer patients with COVID-19.
The findings, from almost 900 cancer patients diagnosed with SARS-CoV-2 infection in the UK, Spain, Italy and Germany, highlight a number of key clinical insights, including:
The average mortality rate among cancer patients with SARS-CoV-2 was 33.6%
Patients who were male, older aged and had pre-existing conditions were more likely to have worse outcomes from COVID-19
Continued chemotherapy and immunotherapy treatment had little impact on the severity of COVID-19, or survival rates
The use of the antimalarial drug hydroxychloroquine appeared to have a beneficial effect in patients
The UK had the highest mortality rates for cancer patients with COVID-19, as well as the highest incidence of hospital-based transmission of SARS-CoV-2.
According to the authors, the study provides evidence for using demographic factors to identify those cancer patients most at risk from COVID-19, so they can be further shielded. They add that there is also need for further research into emerging COVID-19 treatments in infected cancer patients, such as hydroxychloroquine.
Dr David Pinato, from the Department of Surgery & Cancer at Imperial College London and chief investigator of the study, said: "Since the early stages of the pandemic, cancer patients were identified as a high risk vulnerable group. In the UK, this has had an impact on access to cancer treatments. Clinicians had to make the difficult decisions to defer, modify or sometimes even withdraw active anti-cancer care due to concerns over safe delivery of treatment during the pandemic. Most of these recommendations have been guided so far by precautionary principle rather than solid evidence".
"Our findings show the UK has among the highest mortality rates for cancer patients with COVID-19, as well as rates of hospital-based transmission of SARS-CoV-2, and suggests we should keep adapting our clinical services to minimise in-hospital transmission."
"Our research also suggests the use of anti-cancer treatments such as chemotherapy and immunotherapy does not seem to increase mortality risk from COVID-19. This means that in many cases cancer treatment may be safe to use during the pandemic, depending on a patient's individual circumstances and risk factors."
The findings were published recently in Cancer Discovery.
Infrastructure support for this study was provided by NIHR Imperial BRC, and it forms a part of the 'virtual' COVID-19 NIHR Imperial BRC theme.
Read the full story by Ryan O'Hare here. © Imperial College London