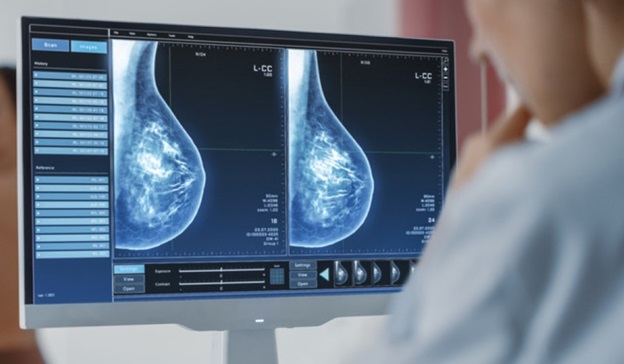 Changing the order in which treatments are given to breast cancer patients could reduce side effects and improve outcomes, according to a study funded by the NIHR Imperial Biomedical Research Centre.
Currently, radiotherapy is usually offered to patients who may benefit after they have undergone an operation to remove one or both breasts to treat their cancer (known as a mastectomy). If they wish to have a reconstruction, this can be offered some time after radiotherapy has been completed to avoid complications in the reconstructed breast.
In a clinical feasibility trial by clinicians and researchers at Imperial College Healthcare NHS Trust and published in the Lancet Oncology, researchers found that changing the sequence of these treatments was safe, without any increase in complications and could lead to patients receiving faster and more effective care compared to the current schedule of treatment.
Thirty-three women with breast cancer who required a mastectomy and radiotherapy were recruited to the trial between January 2016 and December 2017. Fourteen patients were recruited from Imperial College Healthcare and 19 from the Royal Marsden NHS Foundation Trust. The patients were also eligible for a breast reconstruction, using tissue from another part of their body.
Patients received chemotherapy followed by radiotherapy before then having a mastectomy and a breast reconstruction. As well as being feasible and safe, the research team also found patients experienced fewer side effects and that 12 months after surgery they reported high levels of satisfaction with their breast reconstruction.
The study was led by researchers and clinicians at Imperial College Healthcare NHS Trust, Imperial College London and The Royal Marsden NHS Foundation Trust. It was funded by the National Institute for Health and Care Research (NIHR) Imperial Biomedical Research Centre (BRC) alongside the Cancer Research UK (CRUK) Imperial Centre.
Mr Daniel Leff, honorary consultant in oncoplastic breast surgery at Imperial College Healthcare said: "The research we are undertaking seeks to tackle major issues associated with reconstructive surgery, following a mastectomy and radiotherapy for breast cancer patients.
"Many breast cancer patients who need a mastectomy will also desire a reconstruction and require radiotherapy. Many patients will receive a mastectomy first followed by radiotherapy and then reconstruction at a later date, meaning many women will have to wait for a reconstruction, which can often be delayed by many years.
"Others proceed with reconstruction at the time of mastectomy and then give radiotherapy but this can lead to complications. We wanted to see whether changing the sequence of treatments was safe in the short term and would reduce these complications in the long term."
Mr Paul Thiruchelvam, also a consultant oncoplastic breast surgeon at Imperial College Healthcare, said: "This is the first multi-centre study to provide comprehensive data on the surgical safety, treatment pathway times, and aesthetic outcome of this new treatment approach.
"Approximately 55,000 women and 370 men are diagnosed with breast cancer every year in the UK, so these findings are hugely significant because it means we now have evidence that shows giving patients radiation therapy before a mastectomy and a reconstruction is safe."
Find out more about the study in a Q&A with the surgeons on the Imperial College Healthcare website.