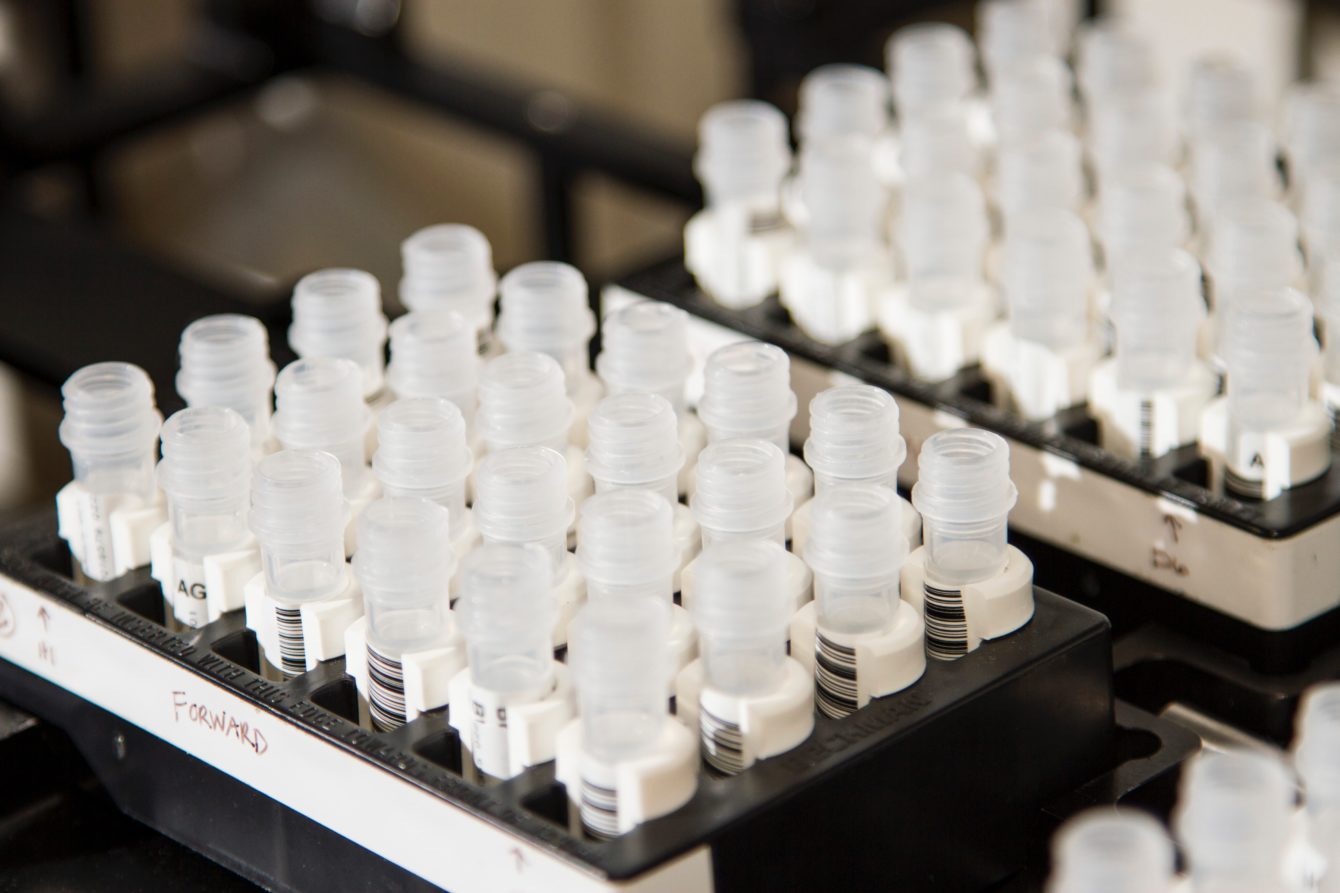 Established in 2013, and part of Imperial College London, the NIHR London In Vitro Diagnostics Co-operative has a strong track record working with innovators to enable evidence generations, supporting market adoption. They do this by working closely with clinicians within healthcare settings and through partnerships with world-class technologists, scientists and methodologists.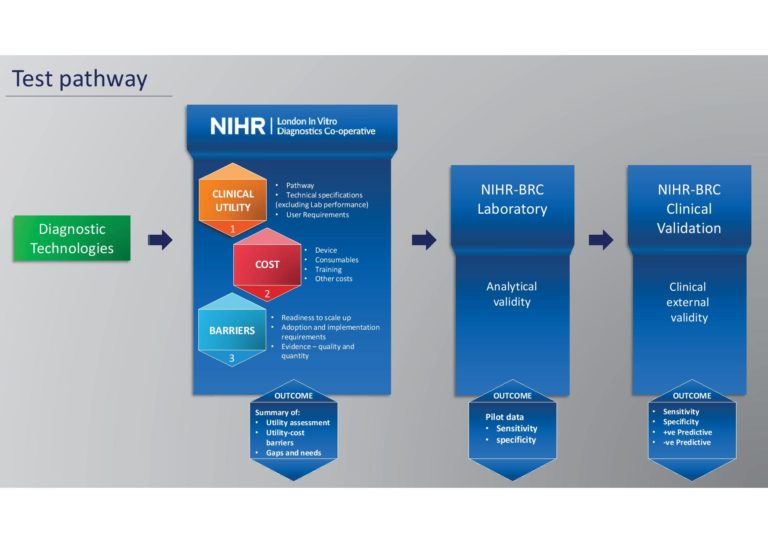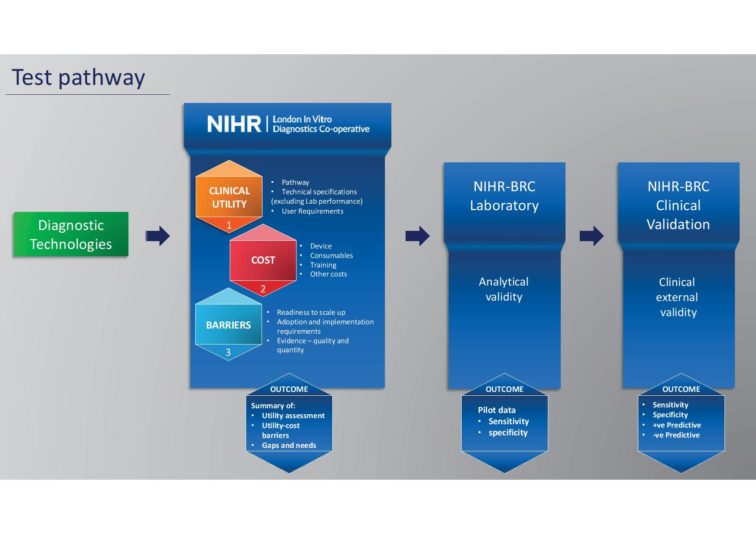 In response to the COVID-19 outbreak, they have set up a testing pipeline to fast-track assessments of novel coronavirus (COVID-19) diagnostics within Imperial College London as well as part of the wider NIHR infrastructure with national coverage. Their multi-disciplinary team can help with lab validation, clinical validation and pathway to adoption to ensure that technologies have real world application in improving patient outcomes and support public health testing locally and across the wider NHS. We have expertise in human factors systems approaches, product design, health economics, statistics, study design and in mapping out barriers to adoption and implementation.
Their unique strength in methodology enables rapid, structured and iterative evidence generation which underpins a transparent operation process for test evaluations:
When a technology comes to Imperial, we then request additional information from the developer, industry or academics
London IVD then carry out rapid, initial assessments of clinical utility, costs and barriers to technology adoption. These identify evidence gaps and needs. (Note: Published tools and methods will be used to make these assessments e.g. LEAN, POCKET, ATLANTIS)
London IVD then share their assessments with the developer and research committee to make decisions on site adoption and study designs
Once a study is complete, London IVD update the initial assessments using the new evidence, and share with the research committee, the developer and clinicians for further decision making as required.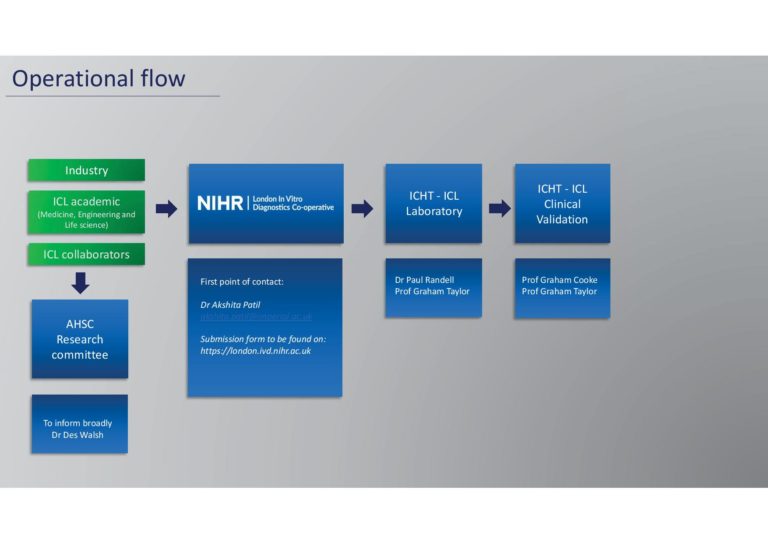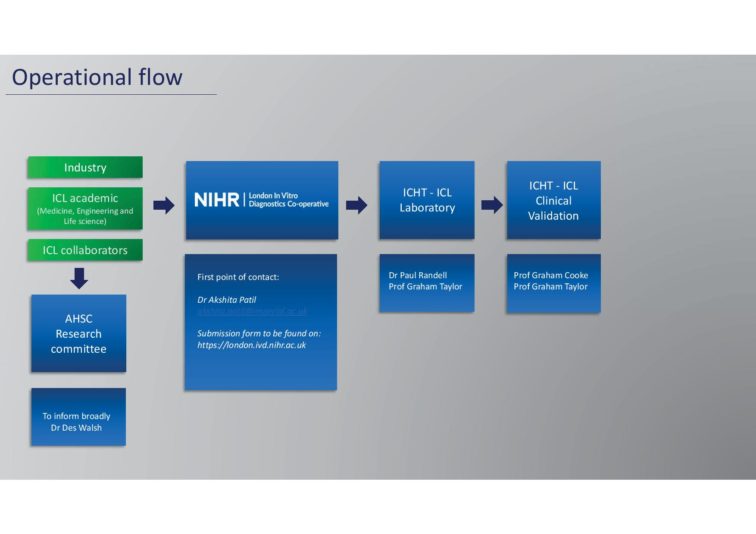 If interested, please contact London IVD. they will get in touch as soon as possible. To expedite the process, please prepare a brief description of your product or technology, accompanied by a slide deck, publications (if available) and any other non-confidential information of your choice.