EDI A conversation with Avani Ela Kaura -in celebration of Pride Month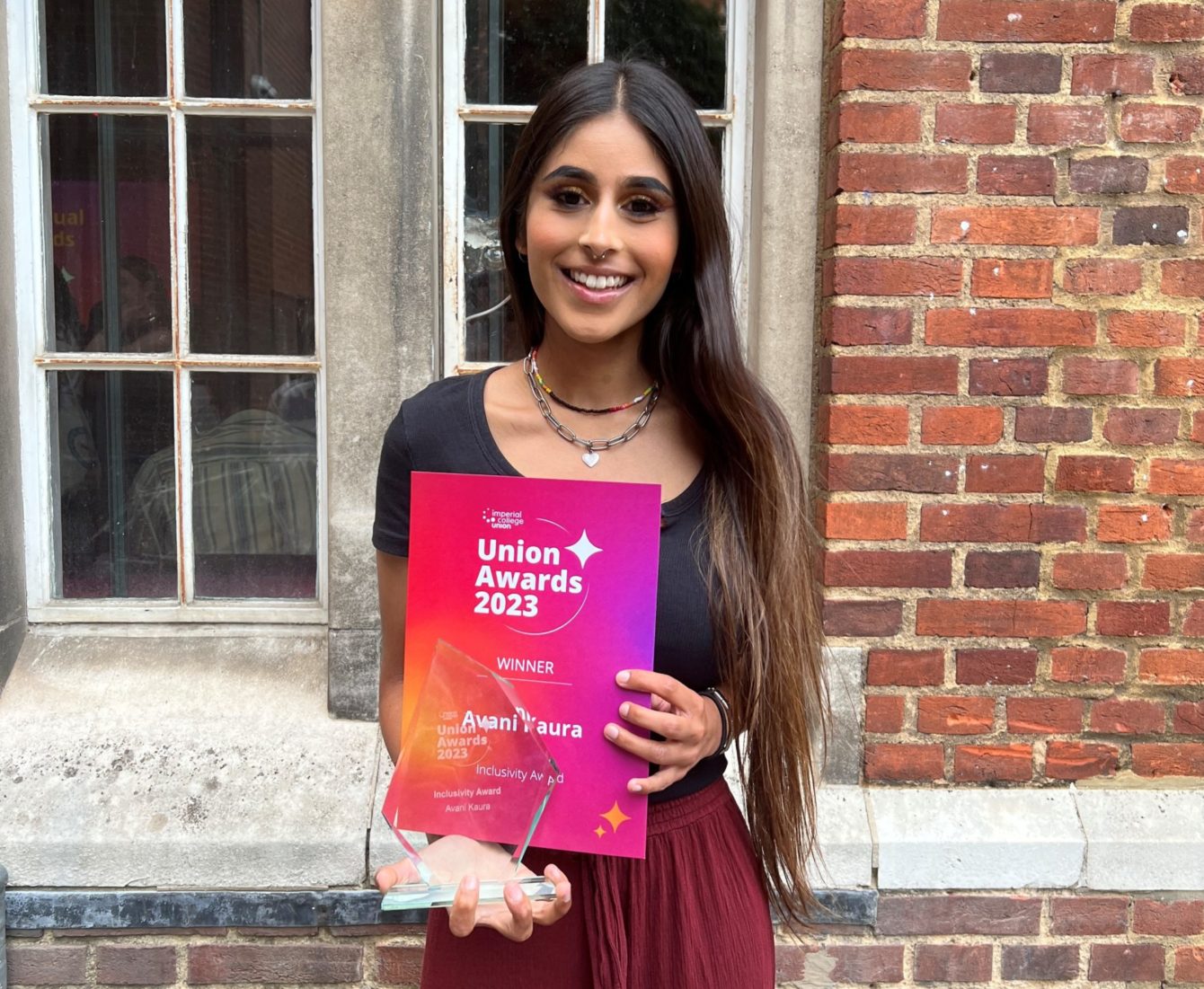 Equality, Diversity and Inclusion (EDI) is a key priority for the NIHR Imperial BRC and we are dedicated to delivering our EDI objectives.
In celebration of Pride Month, we met with Avani Ela Kaura, a queer third-year medical student at Imperial College London, to understand more about the perspectives of members of the LGBTQ+ community and consider what changes we can make to be more supportive and inclusive.
Avi has been elected as the LGBTQ+ Officer 2023-24 for Imperial College Union. Recently, she was nominated for and was subsequently awarded the Inclusivity Award at Imperial College Union Awards 2023.
Next year, Avi will be studying for an intercalated BSc in Global Health. She is keen to explore LGBTQ+ Health in her final research project, contributing to a chronically neglected and under-researched field.
Would you say modern-day society is inclusive?
This is a huge question! I would say it depends on which part of the world we are talking about and what your sexual orientation/gender identity is. It's a lot easier for a white cisgender gay man to be accepted than a black trans person. Considering the UK alone, I would hesitantly say yes; most people will agree that there is a greater acceptance towards LGB (lesbian, gay, bisexual) people. However, we have left behind our trans and non-binary siblings. History is brutally repeating itself with transphobic media slander using language identical to that towards LGB people in the 1970s. In the USA, however, The Human Rights Campaign (a leading advocacy group) recently declared a "state of emergency" for LGBTQ+ people following a dangerous spike in anti-LGBTQ+ legislation.
What are the best ways to educate society about the variation in sexual orientations?
In medicine, we say prevention is better than cure. Similarly, education should start in primary school – teaching everything in a non-biased way. For example, having pictures of same-sex couples in schoolbooks normalises a variety of sexual orientations and gender identities without the focus solely being on queerness. When children are educated at an early age, the chances that they will grow up bigoted toward queer people are reduced. Ignorance is taught, not inherited.
Besides, the doctrine that this early education may push children in that direction is far from the truth. I grew up with solely straight family members, but that did not dictate who I have become. Statistically speaking, gay parents do not exclusively raise gay children. This assumption is rooted in ignorance, misunderstanding and homophobia. Given a healthy environment, children generally grow up to be whomever they want to be, and that should be celebrated.
Earlier this year, in an interview, you expressed that you fear patients' intolerance, especially patients with a particularly discriminatory viewpoint who may express not wanting to be treated by the "other". How could this attitude be changed, in your opinion?
Patients can be very ignorant and intolerant and may refuse to be seen by a queer doctor.
Educating people, especially middle-aged and older people, could bring a much-needed change in their perceptions. Hospital staff wearing rainbow-associated or pronoun pins on their lanyards provides an opportunity for greater queer visibility and inclusion. More largely, normalising inclusive vocabulary within medicine is crucial. When taking any patient's history, we should make an effort to ask every patient their pronouns, not just those who appear 'queer presenting'. These are simple and easy steps which do not require a lot of time but are very effective.
Furthermore, having a true zero tolerance for discrimination in the workplace might help at a macro level. However, at the micro level, it might be more difficult to eliminate discrimination entirely.
Finally, Pride Month is incredibly important for educational purposes and raising awareness, but this should be continued year-round to achieve true EDI.
Congratulations on being elected as the LGBTQ+ Officer for Imperial College Union. Could you tell us what are the first 3 things you would like to change/implement/initiate the process of change (as some things will not change overnight) when you are in the post?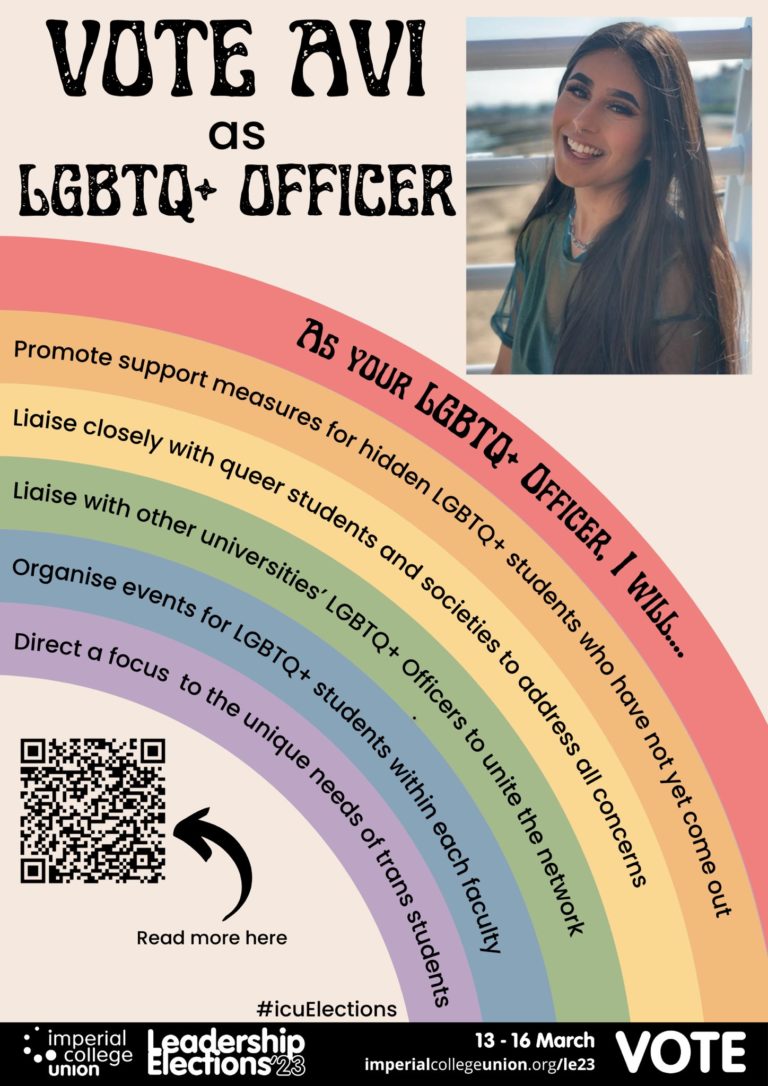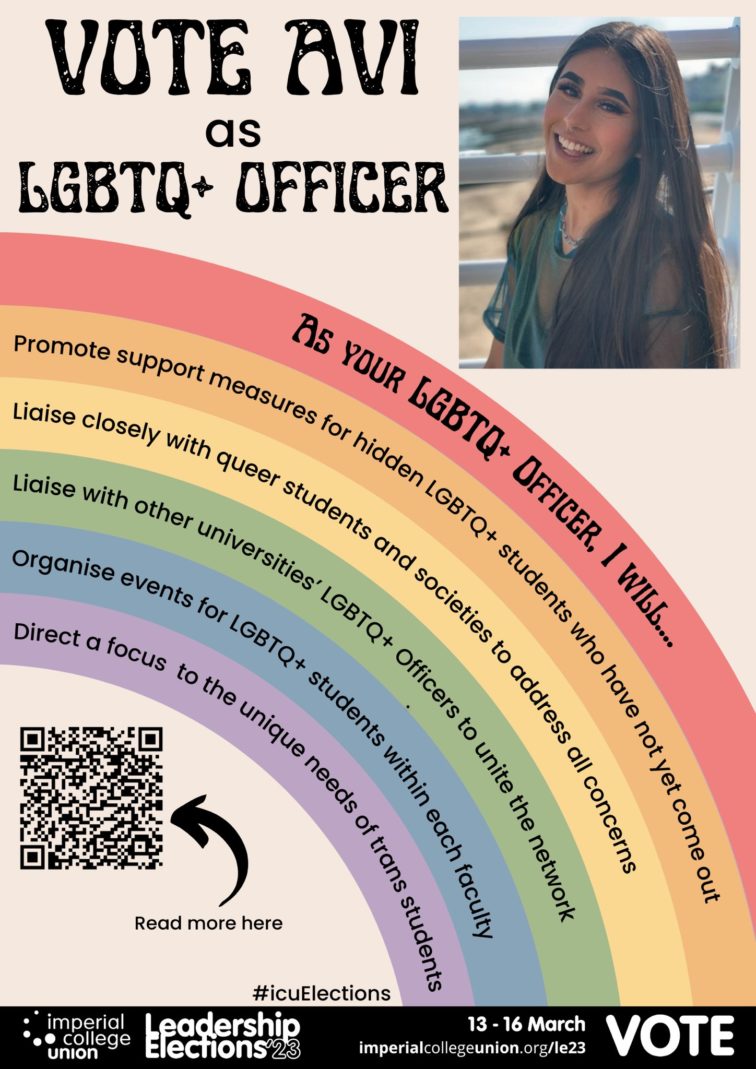 Thank you! Firstly, I'm going to work closely with Imperial's LGBTQ+ society as well as other queer students who are not part of these societies to address individual concerns. I would like to implement and promote support measures for Imperial's hidden LGBTQ+ student population- those who have not yet come out or don't want to voice things directly.
Secondly, I would be directing a focus towards the unique needs of trans students at Imperial because, as we know that they are being under-represented within society.
Thirdly, I would be promoting the integration of informed LGBTQ+ welfare discussions. For instance, during freshers' inductions, we should address the unique problems that members of the LGBTQ+ community may face and signpost them in the right direction to seek help. A slide or two with all the relevant information would be enough. If people are aware of the resources, it could minimise the harm that they face on a regular basis.
What is your biggest fear/s in terms of your medical career? Can they be resolved?
I'd like to think that I have nurtured the ability to overcome hurdles that may come in the way of my success – I've fought through a lot in my life so far. However, that doesn't mean that others' prejudice, discrimination and hate won't get in my way in terms of how people treat me or what opportunities I may be offered.
There are a lot of people, individuals at a high level of authority, who are openly discriminative towards queer people, trolling on social media without consequences. I fear that younger queer people are discouraged from entering the field of Medicine, deterred by discrimination and hate. They could be amazing future doctors or could research pioneering topics– it is not right.
Professionally, I begrudge being part of a system which allows LGBTQ+ patients to not seek medical treatment, fearing discrimination and a poor understanding of their needs. In turn, it feels that I would be enabling queer patients to unsafely access healthcare online without any support and guidance. I imagine this would cause much moral distress for me.
As a funder, what can we do to implement change?
During the Black Lives Matter (BLM) movement, we were educated that it's not about not being racist, it's about being anti-racist. The same applies to this context: it's about actively being pro-LGBTQ+ through implementing strategies and bringing in changes that are pro-LGBTQ+.
I, like many queer people, am unsettled by large corporations slapping a rainbow on their logo during Pride month to show that they are now inclusive by supporting the LGBTQ+ members of society. Change is not implemented through rainbow flags alone; the deep-rooted inequities must be addressed with great consideration.