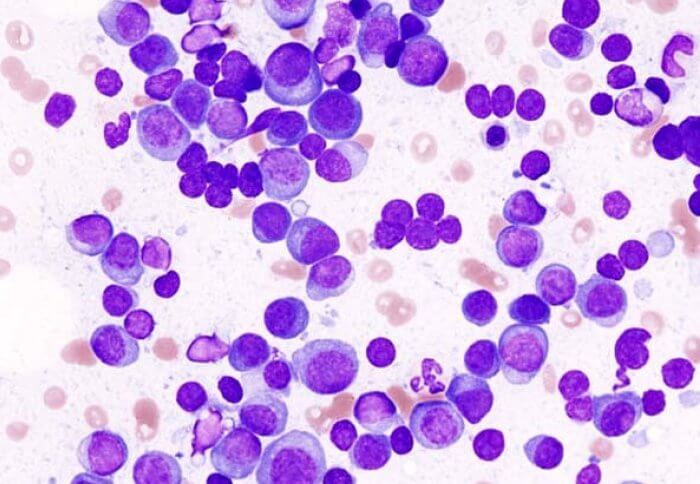 First-in-human study of Imperial-developed drug shows early promise in patients with multiple myeloma
Multiple myeloma is an aggressive type of cancer originating in the bone marrow, and often affects several areas of the body, such as the spine, skull, pelvis and ribs. Despite introduction of new treatments, the disease remains mostly incurable due to relapse, underlining the immediate need for novel treatment strategies.
Virtually all cases of multiple myeloma display deregulated nuclear factor (NF)-ĸB pathway, yet no selective inhibitors of NF-ĸB are currently approved for clinical use, largely due to toxicities associated with systemic NF-ĸB suppression. Imperial researchers approached this problem by analysing different components of the signalling pathway, thus identifying a cancer-specific stage downstream of NF-ĸB activation in multiple myeloma. This stage is characterised by two proteins, MKK7 and GADD45β, forming a complex that prevents programmed cell death (apoptosis). Imperial researchers, led by Professor Guido Franzoso, developed a first-in-class inhibitor, called DTP3, which prevents this complex from forming, thereby re-activating cancer cell suicide while sparing the normal tissue.
Following pre-clinical success, DTP3 was investigated in the first-in-human phase I/IIa clinical trial, to evaluate safety, tolerability, pharmacokinetics and pharmacodynamics of this novel NF-ĸB-targeting therapeutic. Three patients with progressive multiple myeloma received increasing doses of the drug intravenously, three-times a week, for 28 days. Results of the study were published in the British Journal of Haematology, and showed that the drug was well tolerated in all patients, with no notable adverse effects or toxicity. One patient who received a higher dose of the drug had cancer progression halted for three months, and two out of three patients demonstrated activation of apoptosis at a molecular level selectively in cancer cells, and not in healthy tissues, thereby replicating pre-clinical findings.
Importantly, DTP3 clinical effects reported were achieved as a single agent, with a potential to increase the dose 40-fold. However the authors stress that further investigation of the drug is needed to assess its efficacy as a viable agent for multiple myeloma.
"We can now keep the disease under control for several years in most cases, but ultimately we almost always run out of treatment options," explained Dr Holger Auner, study author and NIHR Imperial BRC Cancer Theme investigator from the Centre for Haematology at Imperial. "While the findings of this pilot study must be interpreted with caution at such an early stage of clinical testing, they are nevertheless highly encouraging and strongly support the further development of this approach."
Professor Franzoso, Head of the Centre for Cell Signalling and Inflammation at Imperial and study author, said: "We have shown that this drug can work as expected from the pre-clinical studies, but so far we have only tested it in a small number of patients and only at relatively low doses. In the future, we hope to be able to conduct larger trials to establish whether the drug could be used in the clinic to benefit patients with multiple myeloma, but an effective new drug treatment may still be a few years away."
The trial took place at five multiple myeloma sites located in the UK: NIHR Clinical Research Facility at Imperial College Healthcare NHS Trust , The Royal Marsden Hospital, King's College London, Barts and The London School of Medicine, and University College London Hospitals. For further information on this study and its background, please refer to this article.
Image credit: Wikicommons / KGH